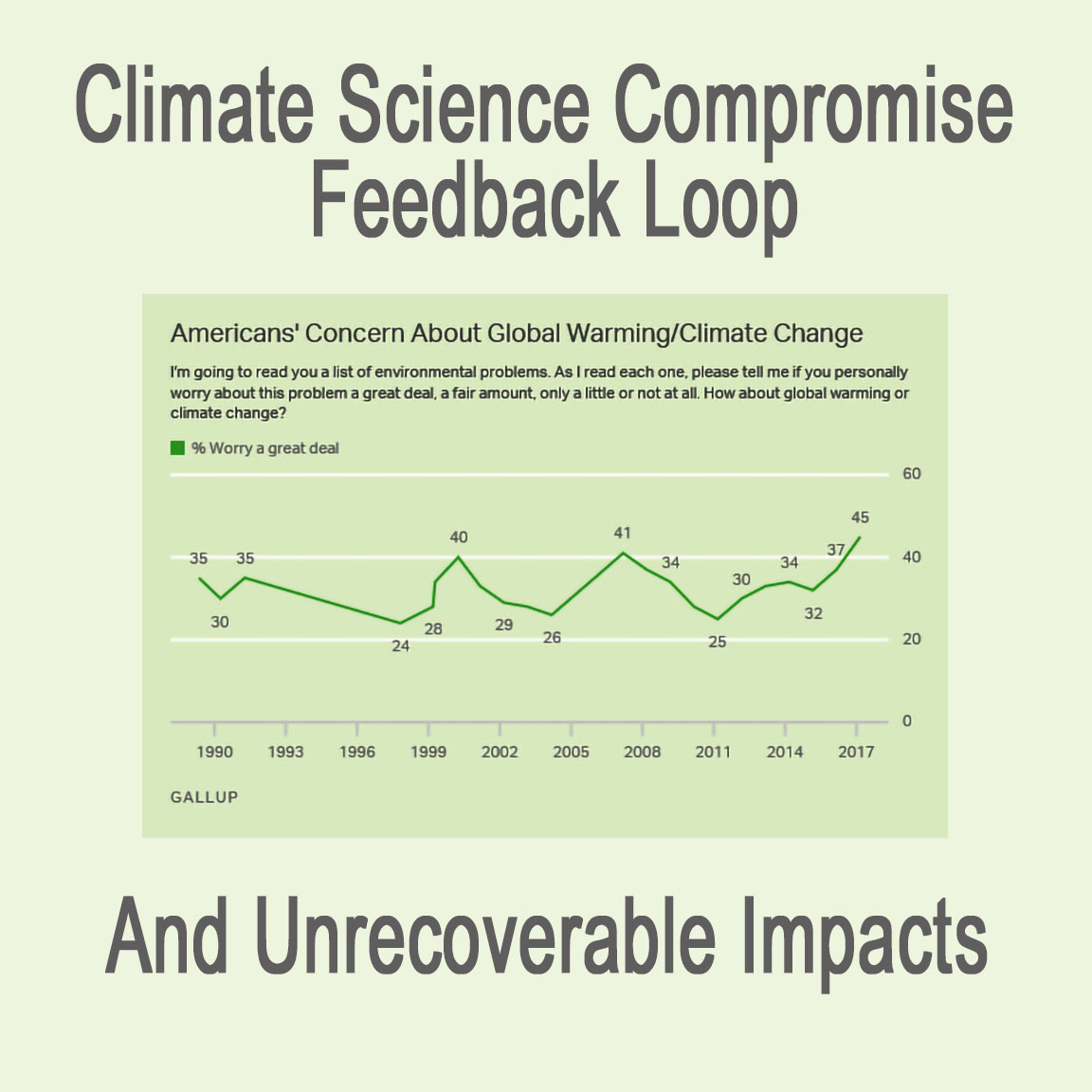 Why are climate change impacts so much worse than projected? What does it mean? Why don't we do something? In a nutshell, science is conservative, it's slow, and the great climate consensus that has evolved to protect our society compounds the understating nature of the industry of science. This creates a vastly understating public facing message.
Traditional policy creation then draws upon consensus science and public opinion in a compromise. All of this is then delivered back to the public through a "fairness lens" that presents both sides of the story equally, without regard to scientific veracity, reducing the level of public concern more, and compromising policy content more.
This all leads to a greater belief in the perceived debate, which manifests in public distrust of climate scientists. This distrust itself then feeds back into the policy loop and it has done so in such a profound way that public perception that allows proposed policy to become law, does not significantly resemble the realities of climate science and impacts already happening.
Below are some polling graphics that show the compromised state of public understanding of climate science today. Below these graphics are critical climate impacts happening far ahead of schedule; that because of the perceived debate, understating science, distrust of climate scientists, and the fairness lens of the media, are simply unknown in almost all of our society today.
When just the actual impacts happening today are juxtaposed against public perception, It's easy to see how significantly this climate science compromise feedback has become.
America's concern over climate change has hardly changed in thirty years. Considering the grave nature of impacts already occurring far ahead of schedule, and how significantly impacts have increased since the run of the century, concern is but a shadow of what it should be and in now way tracks increasing impacts. Even now, with our current antiscience leader, awareness is only slightly higher than the 30-year peak. It would be comforting to think concern has grown since 2017, but it has not.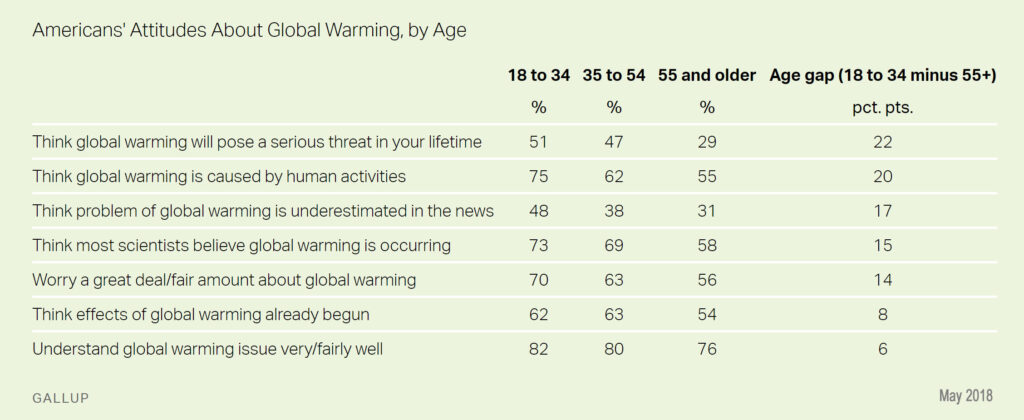 We can only hope that the recent spate of apocalyptic climate science reports and the vastly unprecedented fires and floods will have made an impact on public awareness in the coming polls.
The deal is, the public simply does not know what is going on with climate change. Reality is obfuscated by the perceived debate's tired suggestion that science does not know for sure. If we could only communicate the real science without the fairness lens of the media, we could end the climate science compromise feedback loop and the real science would be known. From this point we could then create policy that would address the future appropriately.
Below is a short list of some of the most important impacts happening today, that because of the climate science compromise feedback loop, the vast majority of the general public have no idea are occurring:
Alaska is now emitting greenhouse gases, not absorbing them, because of permafrost melt, (1)
The Amazon has flipped from carbon sink to carbon source three times, because of tree mortality from ever increasing drought intensity in each time in 2005, 2010 and 2016, (2)
The Gulf Stream has lost 40 percent of its flow in the last 20 years because a giant pool of melt from Greenland is blocking its path, (3)
Over 96 million acres of North American forest are dead from native bark beetles driven berserk because of warming (an area the size of New England, New York and New Jersey combined), (4)
Harvey was a 2,000 to 20,000-year storm county-wide across Harris County, and the two 60-inch totals were a 1 million year storm, (5)
Padre Island is experiencing sunny-day beach erosion 20 times per year already and that some of the dunes have already been completely eroded away, (6)
Deep sea sediments are dissolving from ocean acidification, (7)
NOAA has suggested data already collected but not yet published show 10 feet of sea level rise from West Antarctica by mid-century, that it is caused by mid-ocean warming melting the bottom of ice shelves and outlet glaciers which destabilizes their flow, (8)
If we do not return mid-ocean temperatures to normal by mid-century, we will see 10 plus feet of sea level rise per century for centuries on end, that the adaptable sea level rise is 3 feet per century, that inundation is not the problem, but degradation of a near majority of global wealth from infrastructure collapse because infrastructure node compromise near sea level, (9)
In prehistory, 10 to 20 feet of sea level rise per century during interglacial warm periods (like today) was the rule from ice sheet collapse, but today the forcing from warming is 40 times greater than any time in prehistory except for the Chicxulub meteor event when dinosaurs went extinct,(10)
Climate policy is based on modeling that cannot yet recreate prehistoric sea level rise from ice sheet collapse, (11)
Compromising coastal infrastructure will create unrecoverable economic scenarios from resource abandonment, that NOAA and the Union of Concerned Scientists say will be in full swing by 2030 with just 9 to 14 inches of sea level rise from collapse of Antarctica ice, (12)
With 6 feet of additional sea level rise, 2.4 million homes in the U.S. will be subject to chronic inundation and abandoned. If the worst-case scenario develops, and considering almost everything climate change related so far has been worse than the worst-case scenario, abandonment will reach this level around 2040, considering NOAA's suggestion of 10 feet of sea level rise by mid-century from data collected but not yet published in reference 7. (13)
REFERENCES