It is about time that the climate scientists have decided that it is appropriate to start blaming all of these ultra extreme weather events on climate change. The message is finally beginning to gain broad acceptance in academic circles. At the Annual American Meteorological Society meeting this year, Kevin Trenberth, one of a handful of the most important climate scientists in the world, has come out publicly advocating that; Yes Indeed, all of this crazy extreme weather we have been seeing around the globe is absolutely caused by climate change.
I have been telling folks for six or seven years now (Remember Katrina?) that on moral grounds, it is a certainty that all of these uber extreme weather events are caused by climate change. The standard line "We can't tell if any one individual weather event is caused by climate change" is receding from use in discussions by climate scientists. The reasoning; the convincingly strong circumstantial evidence of a substantially increasing number of unprecedented weather events. Combine this with consistent projections for over twenty years telling us that the weather would become more extreme with climate warming and one can make the leap and associate these things with climate change.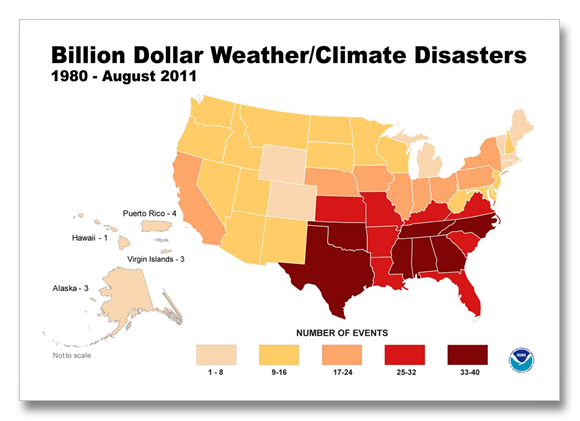 The reason that climate scientists could not previously say with exact certainty whether or not any one event was caused by climate change was the lack of data. Science is a statistical game. One has to have lots of data to be sure of their findings. This is why, in the 1980s, climate scientists were unsure whether or not climate change was real and or caused by humans. They said that it would be 20 or 30 years before we could collect enough data to know for sure. Now it has been 20 or 30 years and we have that data and we know for sure and climate scientists are saying so.
But we still have this problem with all of the snowpocalypses and snowmegeddons, unprecedented droughts, fires and floods, and uhm, all those hurricanes in 2005. But the tide is turning. There are two things going on here. Enough data is accumulating to give some confidence to the suggestion. But maybe what is more profound, more and more scientists are saying that circumstantial evidence is enough. It's good enough to send a murderer to the death chamber for goodness sakes, shouldn't it be good enough to help us define policy and get something down about the grave risks of uncontrolled climate change?
Kevin Trenberth is head of the Climate Analysis Section at the USA National Center for Atmospheric Research. He was a lead author of the 2001 and 2007 IPCC Scientific Assessment of Climate Change (see IPCC Fourth Assessment Report) and serves on the Scientific Steering Group for the Climate Variability and Predictability (CLIVAR) program. In addition, he serves on the Joint Scientific Committee of the World Climate Research Programme, and has made significant contributions to research into El Niño-Southern Oscillation. He was made an Honorary Fellow of the Royal Society of New Zealand in 2000, awarded the Jule G. Charney Award from the American Meteorological Society and the NCAR Distinguished Achievement Award in 2003. (Wikipedia October 17, 2011)
Trenberth says that our warming atmosphere warms the oceans. Warmer water and a warmer atmosphere contribute to evaporation. With more moisture in the air, storms are bigger. At the same time, the increased intensity of storms influences weather adjacent to the storm. Atmospheric circulations grow stronger. The jet stream is enhanced. All of these things not only increase the amount of extreme weather like storms, tornadoes, hurricanes and floods, but they increases the intensity of snowstorms and droughts and wind storms and floods and all. Think of a warmer planet creating more extreme weather similarly to what happens when you stir up a fire ant bed with a stick. No, really. A little energy added to that ant mound allows an explosive feedback reaction to occur in a very similar way to adding a little energy to our atmosphere.
Specifically, ocean waters are about one degree warmer F than in the 1970s. This means that the air is four percent wetter than before. The extra heat then, like a pot of water on the stove — the warmer it gets the more convection there is in the pot — creates more convection in the atmosphere. So we get a double whammy. This is what the models predicted and this is what we got. It's simple physics and finally, climate scientists are backing away form their standard statistical evaluation procedures and recognizing that what they have been predicting for over two decades (actually three now) has finally happened.
The unusually wet monsoon in Pakistan in 2010 that created so much unprecedented flooding blocked moisture from getting to central Russia where we would up having, what a Wunderground meteorologist called a 15,000 year heat wave. The enhanced Beaufort High north of Canada in the Arctic Ocean energized the jet stream and pushed all those snowtastrophes down into the U.S. Northeast and northern Europe for the last several years. The examples are everywhere. The European heat wave that killed 30,000 in 2003. That extraordinary Hurricane year in 2005. The never before seen flooding in the Midwest this year and all the tornadoes. And right here in my backyard, a totally unprecedented heat wave capping a third drought in six years and resulting in the lowest 12-month rainfall ever recorded. These weather extremes in Texas this year contributed to the destruction of thousands of homes from wildfire and $5.2 billion in drought damages all together; so far.
On top of this we have had ten extreme weather disasters in the U.S. that topped a billion dollars each this year. This is three times the average where we have seen 110 billion dollar events (adjusted) in the last 31 years. The old yearly record was nine set in 2008 and 8 in 1998. The next ranked years were six billion dollar events in 2006 and 2009 and five in 2005 and 2007. Over half of the billion dollar weather events of the last 31 years have happened since the turn of the century. The total losses this year are $49 billion (so far.) Here's the list from the National Climatic Data Center (see also August 8, 2011):
1. Upper Midwest flooding, summer: Melting of an above-average snowpack across the northern Rocky Mountains, combined with above-average precipitation, caused the Missouri and Souris rivers to swell beyond their banks across the Upper Midwest. An estimated 11,000 people were forced to evacuate Minot, N.D., due to the record high level of the Souris River. Numerous levees were breached along the Missouri River, flooding thousands of acres of farmland. The flooding, which is ongoing, has caused more than $2 billion in damages.
2. Mississippi River flooding, spring-summer: Persistent rainfall (nearly triple the normal precipitation amounts in the Ohio Valley), combined with melting snowpack, caused historical flooding along the Mississippi River and its tributaries. The region suffered $2 billion to $4 billion in losses. At least two people died.
3. Southern Plains/Southwest drought, heat wave and wildfires, spring-summer: Drought, heat waves, and wildfires scorched through Texas, Oklahoma, New Mexico, Arizona, southern Kansas, western Arkansas and Louisiana this year. In Texas and Oklahoma, respectively, 75 percent and 63 percent of range and pasture conditions were classified as "very poor" as of mid-August. Wildfire fighting costs for the region are about $1 million per day. Well over $5 billion in damage has been done so far, with over 2,000 homes and structures lost.
4. Midwest/Southeast tornadoes, May 22-27: Central and southern states saw approximately 180 twisters and 177 deaths within a week . A tornado rated EF-5 on the tornado damage scale struck Joplin, Mo., resulting in at least 141 deaths, making it the deadliest single tornado to strike the United States since modern tornado record keeping began in 1950. The total losses were greater than $7 billion.
5. Southeast/Ohio Valley/Midwest tornadoes, April 25-30: This outbreak of tornadoes over central and southern states led to 327 deaths. Of those fatalities, 240 occurred in Alabama. The deadliest of the estimated 305 tornadoes in the outbreak was an EF-5 that hit northern Alabama, killing 78 people. Several major metropolitan areas were directly affected by strong tornadoes, including Tuscaloosa, Birmingham and Huntsville, Ala., and Chattanooga, Tenn. Total losses exceeded $9 billion.
6. Midwest/Southeast tornadoes, April 14-16: An outbreak over central and southern states produced an estimated 160 tornadoes. Despite the large overall number of tornadoes, few were classified as intense, with just 14 EF-3 –and no EF-4 or EF-5 — tornadoes identified. Total losses were greater than $2 billion. Thirty-eight people died, 22 of them in North Carolina.
7. Southeast/Midwest tornadoes, April 8-11: An outbreak of tornadoes over central and southern states saw an estimated 59 tornadoes. Total losses were greater than $2.2 billion.
8.` Midwest/Southeast tornadoes, April 4-5: An outbreak of tornadoes over central and southern states saw an estimated 46 tornadoes. Total losses were greater than $2.3 billion. Nine people died.
9. Groundhog Day blizzard, Jan 29-Feb 3: A large winter storm hit many central, eastern and northeastern states. Chicago was brought to a virtual standstill when 1 to 2 feet (0.3 to 0.6 meters) of snow fell across the city. Total losses were greater than $2 billion. The snowstorm killed 36 people.
10. Hurricane Irene, August 20-29, 2011 Minimal Category 1 hurricane makes landfall over coastal NC and moved northward along the Mid-Atlantic Coast (NC, VA, MD, NJ, NY, CT, RI, MA, VT) causing torrential rainfall and flooding across the Northeast. Wind damage in coastal NC, VA, and MD was moderate with considerable damage resulting from falling trees and power lines, while flooding caused extensive flood damage across NJ, NY, and VT. Over seven million homes and businesses lost power during the storm. Numerous tornadoes were also reported in several states further adding to the damage. Over $10.0 billion in damages/costs; at least 45 deaths.
Geologic Society of America press release: http://www.geosociety.org/news/pr/11-69.htm
Billion Dollar U.S. Weather/climate Disasters, National Climatic
Data Center, http://www.ncdc.noaa.gov/oa/reports/billionz.html