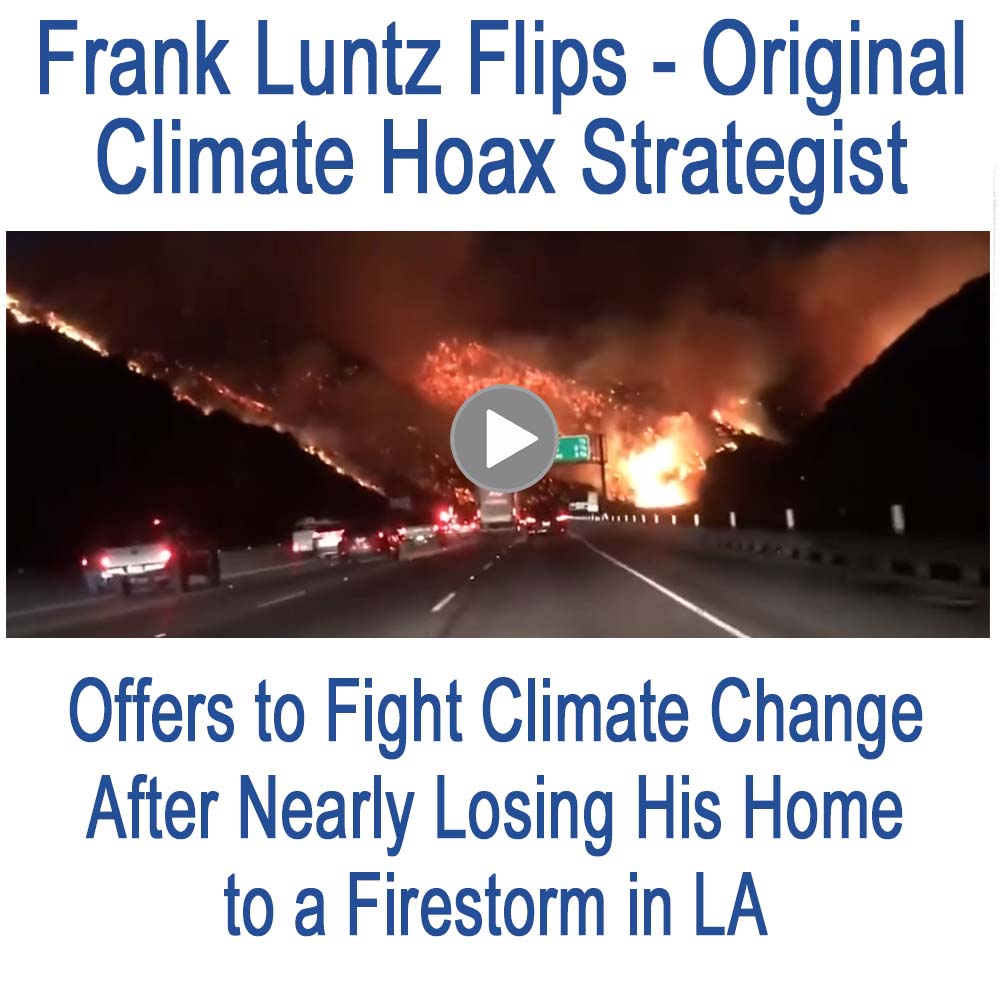 Frank Luntz Flips – Original Climate Change Hoax Strategist Offers to Help Fight Climate Change After Nearly Losing His Home to a Firestorm in LA
(See YouTube video of the Skirball Fire in Bel Air here.)
The strategist that created the Conservative's climate change playbook in 2002 has flipped. His house almost burned in a California firestorm. Now he wants to help our world escape the realities of climate change. Slowly but surely, in spite of US leadership, the tide is changing. As impacts worsen, even the worst of deniers are beginning to acknowledge reality.
Frank Luntz is the guy who coined the term "death tax" for use by those who oppose the inheritance tax. He worked with the Koch brothers and convinced Trump to talk about illegal aliens. His work has guided Republican talking for nearly two decades with some of his most effective work being about climate change and other environmental issues in 2002 with the infamous Luntz Memo after George "Dubya" Bush was elected president.
Now Luntz has flipped his views on climate change in July 25, 2019 Senate testimony after experiencing the Skirball Fire in the Bel Air neighborhood of Los Angeles in December 2017. The fire was only 422 acres, but six homes were destroyed and 12 others damaged.
Personal impacts are what global warming psychology states are the single most powerful way to change personal viewpoints. Firefighters saved Luntz's home. He saw first hand the devastation these more extreme climate change caused fires are creating, and he listened to the wind.
Luntz was invited to speak at the Senate Special Committee on the Climate Crisis about breaking down partisan barriers and taking action on climate change. He offered some suggestions on how to use specific language to more effectively communicate climate change risks:
(From Climate Crocks July 26, 2019)
USE: Cleaner, safer, healthier. LOSE: Sustainable/sustainability.
USE: Solving climate change. LOSE: Ending global warming.
USE: Principles and priorities. LOSE: Values.
USE: Reliable technology/energy. LOSE: Ground-breaking/State of the art.
USE: New careers. LOSE: New jobs.
USE: Peace of mind. LOSE: Security.
USE: Consequences. LOSE: Threats/Problems.
USE: Working together. LOSE: One world.